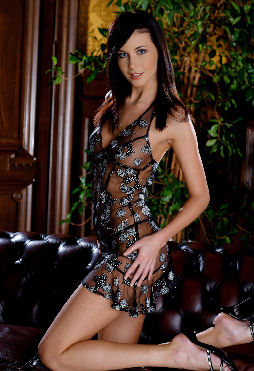 Naughty Nasty phone sex Natalie! But you can call me Nasty Natalie or just Nattie. =) I have a very sweet side... I really do. I love passionate sex with long deep strokes. Our bodies close together, getting hot and sticky. Feeling you pounding deeper and deeper inside me until I squirt all over you. I'll make sure to lick all my sweet juices off your throbbing cock and balls until you're ready to bend me over and penetrate me from behind. Ohhh... and don't forget to slap my hot little ass until it's rosy red or tug on my long silky hair. I can cum over and over, but where will you cum? My mouth, pussy, or ass? Mmmm... I love licking it off my tits or having you spray it all over my face.
I can be a kinky nasty phone sex bitch when you least expect it. Probably the best on your lunch break when I just need a hot, steamy, quickie. Maybe you can't come home for lunch? I could get right under your desk and suck your nice hot cock and balls until your blow your creamy load all over my face while you're on a conference call. Think your colleagues will have any idea?

I can also be VERY kinky. I'm always ready for some wicked little fantasies and taboo fetishes. Don't be scared! Share all your nasty little secrets with me! I adore exploring even the darkest of desires. Allow me to be in control of your cock... teasing and denying you... I love fuckign big dicks so if your a SPH boy, come on down my road and I'll cuck you out like you need to be. For the real men, maybe you need a submissive little cum slut. I'm definitely able to hop into any sexy role. From mean Mistress to sexy teen school girl slut. I can have a very wicked mean voice or a sweet innocent young voice. Always remember that nothing is off limits to me. Nothing.